Robert Mericle – President and Chief Executive Officer
In 1985, Robert Mericle founded Mericle Properties and began his career in commercial real estate. In 1987 he formed Mericle Development Corporation, Mericle Construction, Inc., and Landmark Construction Group, Inc., to design, construct, and market institutional-grade industrial, office, and flex buildings throughout Northeastern Pennsylvania.
In 1993, Robert established Mericle Commercial Real Estate Group, Inc., specializing in commercial/industrial brokerage properties, securing the company's position as the premier full-service commercial real estate company serving Northeastern Pennsylvania. By 1997, Mericle Commercial Real Estate Services expanded its territory to include the Lehigh Valley area of Eastern Pennsylvania and the Williamsport Area of Central Pennsylvania.
Under Robert Mericle's leadership, the Mericle team of professionals has provided commercial real estate solutions to dozens of well-known companies including 36 Fortune 1000 firms. These include: Amazon.com, American Eagle Outfitters, Neiman Marcus, The Home Depot, Lowes, Sears, CVS Caremark, Michaels, Men's Wearhouse, Geisinger Health System, Kimberly Clark, FedEx Ground, Cintas, Pepsico, Merill Lynch, J.P. Boden, Simmons Manufacturing, Sealy, Benco Dental, Patterson Dental, Henry Schein and many other national brands.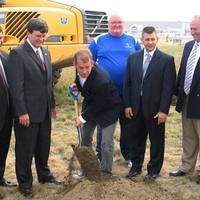 In an effort to improve Mericle's sustainability, Robert created Mericle's Green Building Program with a commitment to provide lower operating costs to tenants through the implementation of eco-friendly, energy-saving measures. He has also led efforts to introduce LEED to Northeastern Pennsylvania. LEED stands for "Leadership in Energy and Environmental Design," and is a national industry measurement tool created by the United States Green Building Council to define the industry's most environmentally conscious projects. The first three industrial buildings in Northeastern Pennsylvania to receive LEED status were Mericle buildings.
In 2012, Robert Mericle announced the ReadyToGo!™ Program, a major investment initiative in new speculative buildings and fully prepared sites that is expected to facilitate the creation and retention of thousands of local jobs. Through this program, Mericle Construction is fully preparing more than 90 ReadyToGo!™ Sites and building dozens of speculative commercial buildings on approximately 1,700 acres it owns in 11 business parks in Luzerne and Lackawanna Counties. For each of its ReadyToGo!™ Sites, Mericle designs a building that best fits the parcel, obtains all of the permits and approvals necessary to begin construction, and clears, grades, and compacts each site. All of Mericle's available properties including its ReadyToGo!™ Sites can be viewed at www.mericlereadytogo.com.
Key to the ReadyToGo!™ Program is Mericle Construction's in-house team of 50 heavy equipment operators, which completes all of the site work and utility and road extensions needed to make each parcel ready for the immediate construction of building foundations. Once each site is completed, Mericle examines market conditions and determines whether it is appropriate for speculative building construction. Mericle's speculative building program continued unabated through the U.S. recession. Between 2008 and 2014, Mericle constructed 15 buildings on speculation in Northeastern Pennsylvania. During that time, Mericle provided commercial real estate solutions in the Scranton, Pittston, Wilkes-Barre and Hazleton areas to 80 companies that created and retained over 7,300 local jobs.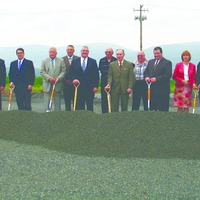 Robert Mericle and Mericle Commercial Real Estate Services also support many charities and community initiatives in the locales where they conduct business. Since its founding in 1985, and under Robert Mericle's leadership, Mericle Commercial Real Estate Services and the Mericle family have provided significant financial support to help hundreds of non-profit and community organizations throughout Northeastern Pennsylvania. Since just 2005 alone, the company has donated more than 60,000 man-hours to community service. In addition, Mericle employees and their families have donated thousands of hours of their personal time to many local worthy causes.
While Robert Mericle, the Mericle family and the company's employees have helped a wide variety of local organizations, the company focuses its philanthropic and volunteer efforts on youth programs and activities, educational opportunities, healthcare initiatives, aid to the economically disadvantaged, community park upgrades, and regional economic development programs.
To learn more about some of the non-profit organizations that Robert Mericle, the Mericle family and Mericle's employees have helped please visit the link below. More information is available here: http://www.mericle.com/About-Us/community-giving.html